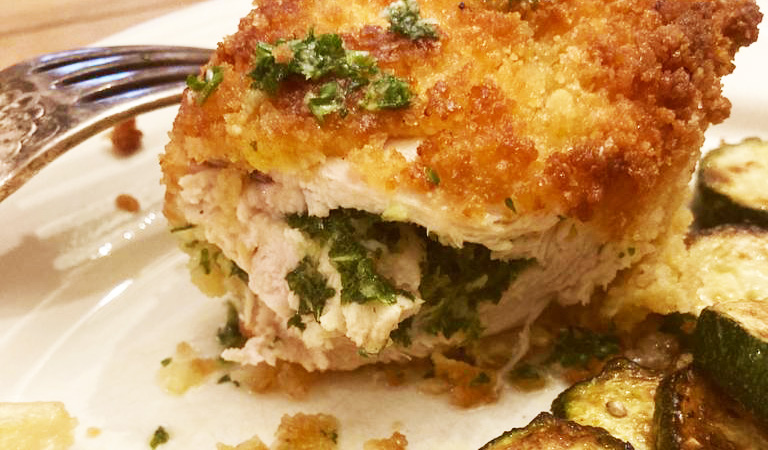 It's not often that Tim gets to cook. It's not that he doesn't like doing it, it's just that, well, let's just say I like to keep control of the kitchen and I even have an apron to prove it.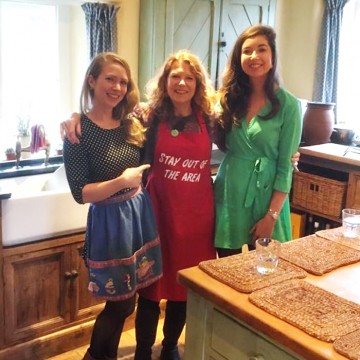 So one year, when it was my birthday and he said with purpose that he was going to cook, I was quite surprised. And when he said he would be cooking chicken Kievs from scratch I was even more surprised (in fact I may have laughed out loud with the shock of it. Just a little bit, obviously).
But what followed was a triumph. Sous chefs were recruited (our three children) and the sous chefs shooed me out of the 'area' bit of the kitchen. An hour or so later we sat round the table and ate the most delicious meal – and a Budden family birthday tradition was born – 'Dad's chicken Kievs'. They might not be the most conventional version, but they feature in the best food memories in our house and are top of everyone's birthday wish list.
Method – serves 5
Mash together 200g butter, a largish bunch of finely chopped parsley, 3 finely chopped cloves of garlic, a very generous grinding of black pepper and an even more generous shake of sea salt.
Roll the butter mixture into a long sausage with a diameter of about a penny and put it in the freezer for an hour or so to harden.
Make a pocket in the flesh of an organic chicken breast (make the cavity wide enough for the butter to fit, but leave the hole as small as possible – try not to tear the flesh or the butter will leak out when it melts) and stuff in a section of the butter – this can be quite tricky. Then seal the hole with the flappy bit of chicken as much as you can (a technical term used by all the best chefs). Any leftover butter can be frozen and used next time.
Whizz up some breadcrumbs in a blender, put them in a biggish bowl and season well – stale bread is best for this or cheat and use bought ones. You'll probably need to use about 8 slices of bread but you can always make more.
Break 3 or 4 eggs into another bowl, whisk them together then dip the chicken parcel into a coating of seasoned flour, then the egg mixture and then into the breadcrumbs.
Make four more breadcrumby chicken parcels and individually fry-off each one in a generous amount of your usual kitchen oil to seal, about an inch deep or more, then place on a baking tray and pop into the oven for around 20 minutes at around 170C fan. (If the breadcrumbs look a bit sparce after the first coating, repeat the dipping and coating process before putting in the oven).
Serve with a fresh green salad and chips. Yum!
With our 35th anniversary of farming at Higher Hacknell at the end of the month and it being Organic September too we would love to mark the occasion by putting together a montage of your best organic foody moments in our blog and on our social media channels. A sort of delicious celebratory bunting!
If you would like to join the online party please send us your pictures of favourite homemade dishes and/or recipes and we'll use them to decorate our pages. Even better if there was a special occasion involved – happy memories are even happier when good food plays a part.
These fantastic South Devon rib eye steaks with a red wine and orange jus, hasselback potatoes and summer salad were cooked by our friend and customer Coelia - fabulous.

Everyone who sends one in will be entered into a draw and the first name out of the hat on 15th October will win a surprise parcel of yummy Higher Hacknell goodies. You can also be in with a chance of winning by liking our facebook page - double your chances of being the lucky winner by doing both!
Email your entries to info@higherhacknell.co.uk or you can send them by Messenger on Facebook www.facebook.com/HigherHacknellFarm
We look forward to our tummies rumbling.