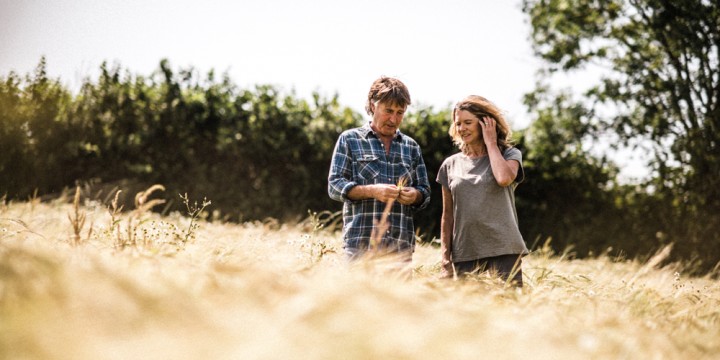 They say you are what you eat and this is, of course, not just true of people. Our pedigree sheep and cattle munch on the tastiest organic grass in its various forms – as a lush green feast in the spring and summer seasons then on the mature grass supplemented with herb-filled hay and rich, wholesome silage in the colder months.
The windswept hills of North Devon are ideally suited to hardy grass crops which is lucky as their steep inclines and stony soils can make them difficult to cultivate (although not impossible with some hard graft, as Jim has proven with his thriving organic vegetables). But the soil is a finite living entity and cannot continue to produce grass crops with the help of just the sun and the rain alone – it needs careful nourishing to maintain optimum growing yields.
This is where the organic rotation system comes in. Our short term pastures (or leys) have a two year break every so often which begins with a thorough ploughing-in of lots of organic matter followed by the sowing of low intensity arable crops. These are left to grow at their own pace (but always with one eye on the weather of course – farmers just can't help it).
In amongst the green, then golden stems, weeds also flourish, and with them come the birds that flit low through the whispering swathes, gathering beakfuls of insects to feed their second summer broods.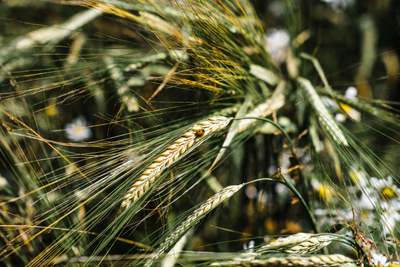 And now we find ourselves in August, ready to harvest this year's crop of barley which will be crushed or 'crimped' ready for storing in a sealed clamp where it is effectively pickled and preserved. Nothing goes to waste – the stalks are turned into straw bales and eventually the stubble or 'harrishes' will be ploughed back into the soil, but only when the birds have finished feeding their young.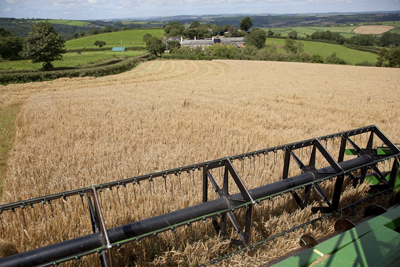 And so the cycle continues...
And in a completely different kingdom to the plants and animals that inhabit our pastures, we were excited to see some action in the mycological one.
The first field mushrooms have appeared, and we can report, were absolutely delicious. Out on a walk with Buddy but without the usual mushroom-gathering basket that would be essential kit in the early autumn, I was caught unawares by the unexpected feast and had to improvise by carrying the mushrooms home in the hood of my coat before transferring to my basket.
Necessity is the mother of invention after all!