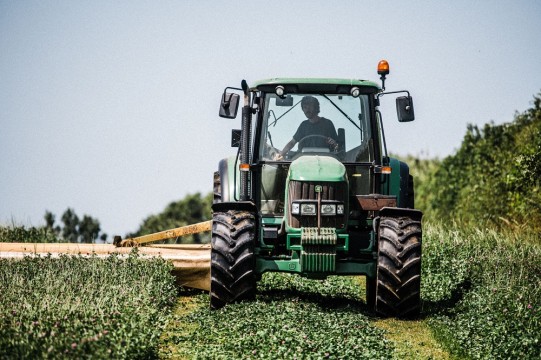 With the driest May on record followed by the searing heat of early June, all eyes have been on our hay meadows and pastures in the past month or so. Higher Hacknell's naturally verdant grass crops, nourished with nothing but our organic manure, are the key ingredient in the rearing of our slow-growing grass-fed livestock. Grazed in situ by our cows, or as hay and silage harvested in summer for the leaner winter months ahead, our grass plays a huge part in developing the unique flavour of our tasty organic meat. So whilst the endless landscape of hills reaching across Devon burnt to a frazzle under uninterrupted azure skies, those of us whose livelihoods are at the mercy of the weather had one ear glued to the forecast as the drought took hold.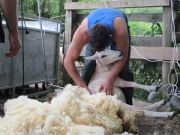 And during this time as the whole country sweltered there were some residents on the farm who were greatly relieved to find that June had arrived at last. With human hairdressers still closed under lockdown who would have thought a year ago that we would have been so envious of our flock of Lleyn ewes as they skittered newly shorn and knobbly kneed out of the shearing shed, calling loudly to their lambs who were vainly looking for much woollier mothers.
Inevitably the rains came, and the fields and hedgerows magically reawakened; a patchwork landscape of infinite tones and shades of green. And although silage yields may be down this year as a result of the extreme spring weather we are always positive about the future and are hoping for more fine weather for the next big job in our farming diary - hay making.
And in the meantime, we've been contemplating the annual fate of the impressive thistles that grow warrior-like come rain or shine across the farm.
There's an old country saying that goes:
Cut thistles in May, they'll grow in a day;
Cut them in June, that is too soon;
Cut them in July, then they will die
so we've now reached the month of reckoning (leave them any longer and their powder puff seeds will drift cloudlike across the landscape resulting in even bigger prickly armies).
As an organic farm, our method of thistle removal (and any other weed come to that) involves mechanical removal rather than spraying – in this case topping them with a giant mower so their seed heads don't ripen and they die off (until next year at least). But as conservationists we see their benefit as a foodsource for pollinating insects and songbirds that inhabit our miles of ancient hedgerows, so we think we'll leave quite a few alone to do their thing.
Incidentally, leaving nature alone to do its own thing is the subject of 'Wilding', an inspirational book we've been reading by Isabella Tree. Her memoir of the rewilding of her husband's family estate in Sussex over the last two decades has distinct parallels with our own organic farming at times, and whilst the scales are incomparable and her methods (and outcomes) sometimes extreme, it is always uplifting to hear positive stories of ecological change, often against all the odds.