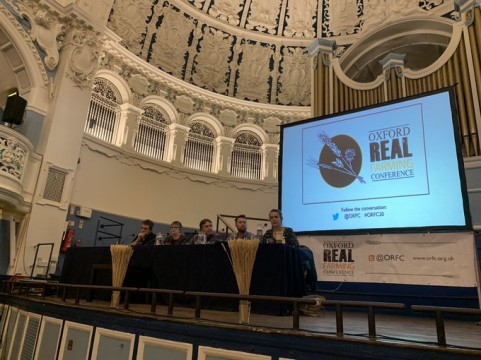 HAPPY NEW YEAR
We've started 2020 with an inspirational trip to the Oxford Real Farming Conference where we listened, learned and talked a lot about how wildlife, biodiversity, soils and animal welfare benefit from regenerative and organic farming.
It was positive to hear Oxford professors explain how we don't need to completely blame ruminant cows in the UK for climate change, as methane, though stronger, is relatively short lived and less serious than CO2 from fossil fuels.
But after the shocking 'Apocalypse Cow' programme on Channel 4 broadcast on Wednesday evening, we were challenged by vegan environmental campaigner, George Monbiot, who told us that the world will be better off without farming and people will be saved by eating fake factory produced synthetic protein! Tim did get the opportunity to tell Mr Monbiot a few realities about farming as he was speaking alongside him in one of the key conference debates about land use.
Back home now and back to work, we're keen to put all the talk into practice and keep doing whatever we can to improve the ecology of the farm, from tree planting, to managing our grass and soil to absorb more carbon from the atmosphere.
And in the wise words of journalist, Joanna Blythman, 'I really feel that we've lost the plot when arcane imports and genetically modified fake meat burgers dreamed up by venture capitalists in Silicon Valley are portrayed as more acceptable than a lamb chop from a British hillside.'
'What we put on our plates must reflect the productive capacity of our land'