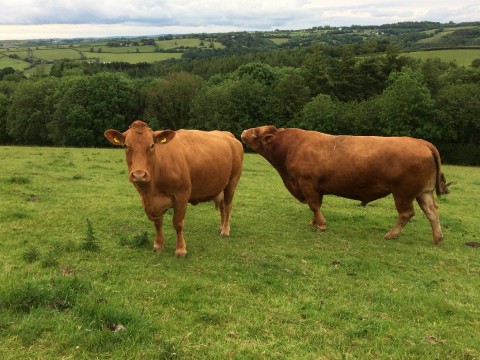 At Higher Hacknell Farm we lucky to have panoramic 360 degree views from the top of the farm. In one direction we look towards the high tors of Dartmoor, and turning around and we can just about see the sea and the rolling hills of Exmoor. So with respect to our beautiful position betwixt the two moors and in homage to Devon being the only county which can boast to having two native breeds of cattle, we have our South Devon bull and a Ruby Red (North) Devon bull.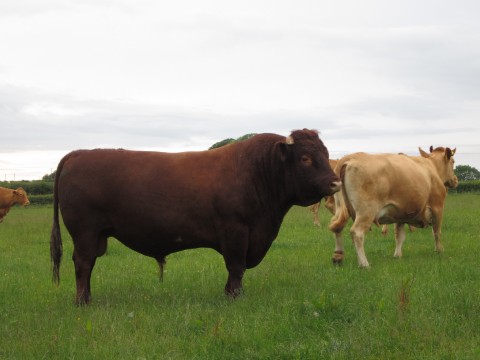 This week, we've checked the calendar, and it's time for our boys to go to work. Today Jim and Tim have been dividing up the herd and making sure each cow has her calf and selecting which cow will go to which of the bulls. The Ruby Red breed is smaller, and so we choose the heifers which will calve for the first time, to go with him, along with any cows which we've had to help with calving in the past. The best cows we want to breed from for the future go to the South Devon bull, so that the cows in our herd remain pure, pedigree South Devon.
I have to say, I love both breeds and each has its special characteristics. The South Devon is the biggest native breed, and is a beautiful golden colour (Tim once romantically said, the colour of my hair, as it used to be!) It is known for its gentle nature and produces wonderful creamy yellow milk which all goes to feed its calf. The Ruby Red is smaller but incredibly hardy and years ago the steers would have pulled the plough. Their coats are the richest brown like the best Devon soil.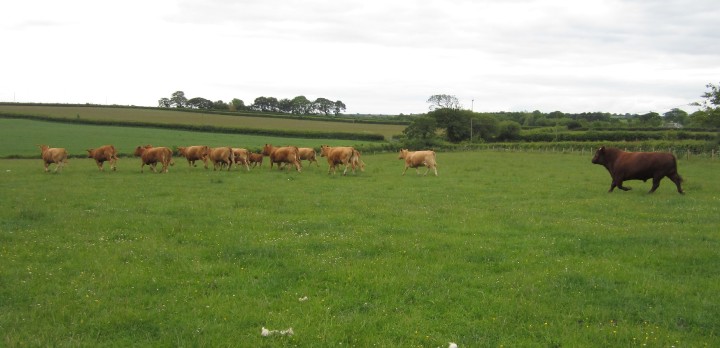 I'm not following the lastest T.V series of Love Island, but we've got our own competition going down in the fields. In Longstocks, Dickie, the South Devon was spending most of the afternoon yesterday eating grass, before casually sauntering over to check out a cow, whilst Rocky, the Ruby Red Devon up in Homers' Moor had his work cut out. He's got less cows to serve but being young heifers, they give him the chase about and don't stand to be served like the older cows!