Summer sunshine in February, what an unexpected but lovely surprise! Though the trees are bare still, it's lovely walking through the wild places on the farm with the wild flowers coming out and the birds starting to sing. Around the ponds which offer habitat for wild ducks, coots and even the odd otter, we've a host of daffodils which are a real picture at this time of year.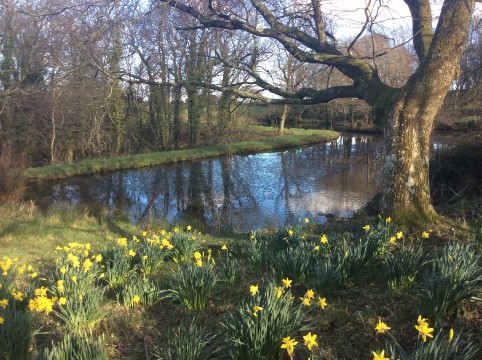 By contrast, Tim's busy preparing the land for the season ahead and spreading dung, which is like gold dust for organic farmers, on the land. Our animals provide us with highly valuble manure, without which the land would lack fertility and the grass and crops would not thrive.

At this time of year, before the grass starts to grow, our lambs from last year which we call hoggets graze on fresh kale and turnips. When they finish grazing these, the fertility from the manure and root crops is ploughed back into the soil.
Now, it's time to wait for spring and the soil to warm up before crops are planted in another month or two.