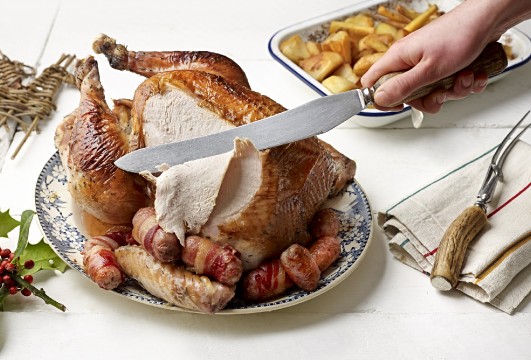 While the wind and rain rage outside, it's time to make the Christmas orders. Choose a tasty free range organic bronze turkey or the superbly flavoured organic goose for your traditional Christmas meal. If you are looking for a magnificent centrepiece for your dinner party, then our homebred South Devon organic ribs of beef and sirloin joints will make a roast to remember!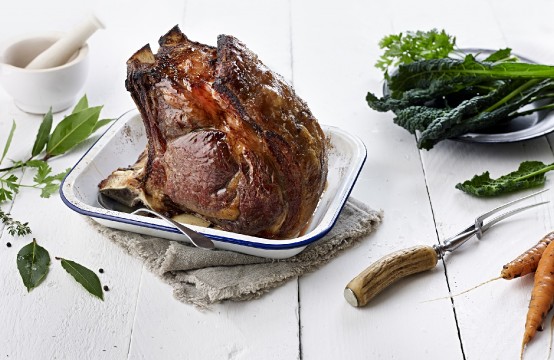 We enjoyed an early taste of Christmas last week when Neil the photographer from the Grow Eat Gather team came over for the day to do the Higher Hacknell photo shoot. With our new website now up and running, we wanted our Christmas meats to feature, so Ellie and I were busy cooking the full Christmas works! It wasn't easy to get everything looking perfect! But Neil did say that there were usually 5 turkeys and 5 chefs, plus stylists and runners on the real professional shoots he'd done, so that made me feel we didn't do too badly! The turkey was also delicious, so moist, and the leftovers have kept us going for days!!
You'll find a selection of seasonal meats on the Christmas page of the website. Don't forget the trimmings, streaky bacon for the bird, sausages and bacon rolls for trimmings, and sausagemeat for stuffings. You can add beef, lamb, pork and chicken from the other sections of the website, to your order as well.
All our award winning organic meats are available for delivery every Thursday and Friday, however orders which have a turkey or goose will only be available for delivery on Friday 18th, Tuesday 22nd and Wednesday 23rd December. Please make sure you add delivery instructions where the box can be left if you are likely to be out, and be aware that they will be very busy days on the roads. You can add any comments, such as the size of turkey or goose you'd like, or how many you'd like it to feed, if you are unsure about how much you need, in the comments box which is at the end of the order process.
Do order soon, it's easy to avoid the last minute panic! Richard our butcher has been curing the legs of pork this week for the gammons and hams, so it really feels like the countdown to Christmas has begun. After the cidermaking celebrations a few weeks ago, which we shared on our facebook page, we're looking forward to the next festivities to bring some light and warmth to the winter months.
Please phone me on 01769 560909 if you'd like advice or just prefer to talk to someone about what you'd like to order, or visit www.higherhacknell.co.uk!
Hope to hear from you soon
Best wishes
Jo and Tim and all of us at Higher Hacknell Farm
p.s Have you joined the #WasteNot campaign?