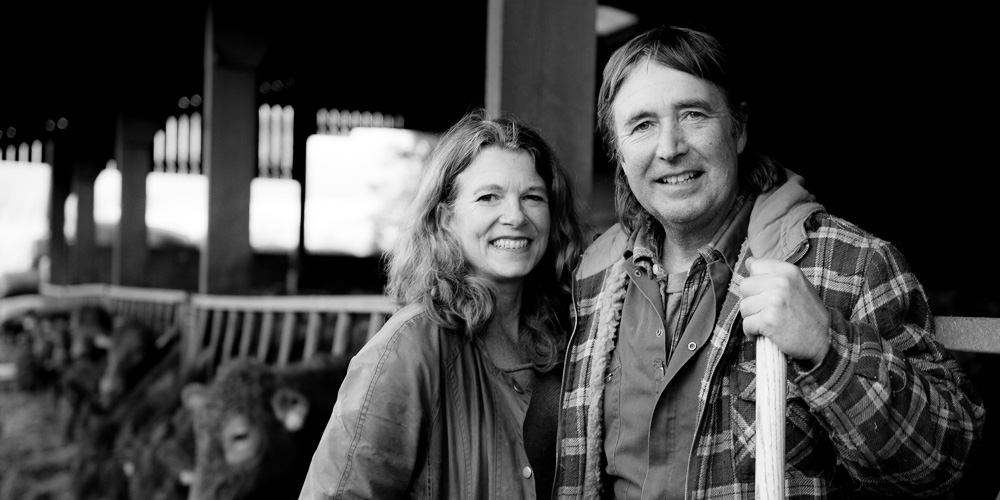 Higher Hacknell is a very small family business – and we're proud of the fact that it's a 'field to fork' operation. Tim works full-time on the farm with our neightbour David lending a hand and a bit of help from me (not forgetting sheepdog Taw who outworks us all!). Keith is our highly-skilled butcher, helped by Anj and myself, while Camilla and Caroline are busy cooking our homemade ready meals in the kitchen.
Whilst we often wonder how on earth we're going to find time to do all the jobs on our list we know we're lucky to be able to pour all of our passion into each process of our organic business. We really care about all of it – from nurturing every acre that we are custodians of to ensuring that your Higher Hacknell delivery sets your taste buds on fire and makes you and your family smile.
And we wouldn't be in this fortunate position if it wasn't for you, our customers and friends. Your support over the last 36 years has been, and continues to be, absolutely amazing – particularly as we know how hard the last couple of years have been for people. So a heartfelt thank you from us – we definitely couldn't do it without you.
Going forwards into 2022 our New Year's resolutions for Higher Hacknell should probably be to shout a bit more about our happy customer reviews, industry awards and generally to do more promotional social media. To be honest though, that's not really us, and we'd rather tell you about how we're planning to plant more trees, make some of our pastures even wilder and reduce our carbon footprint further with improvements to the packing and delivery side of things.
More of all that in the future so watch this space, but in the meantime, we wish you all a very happy and healthy new year!
PS click here to see Tim and Taw moving the cows up the lane to a new field - a beautiful winter's day.