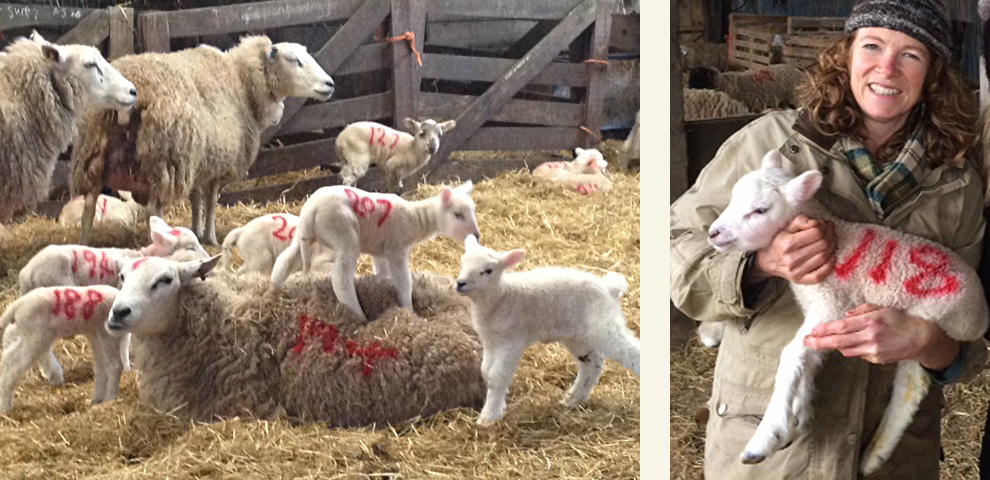 We're through the worst of the winter weather now – or at least we hope we are. A line needs to be drawn somewhere and for us, the annual start of lambing heralds the change in the seasons regardless of the weather; we always say it's the gateway to spring.
12th March is our ewes' due date, and as the lengthening days inch ever closer to it there is an expectant hush on the farm. The Higher Hacknell landscape is quietly awakening – late February's snowdrops give way to the gentle yellow surprise of primroses soon to be followed by trumpeting armies of daffodils. And during this time there is the chance to hear the cries of the skylarks rising above the emptying sheep pastures as our pregnant Lleyn ewes are brought in to be cared for in their confinement.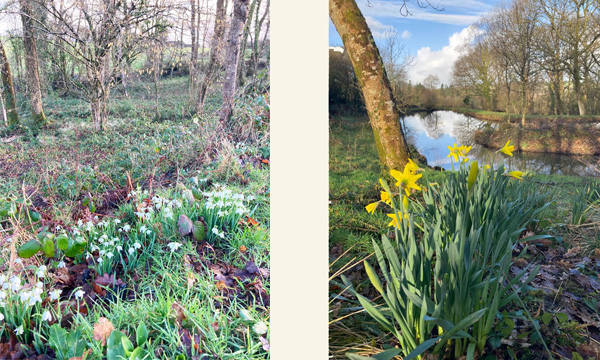 Our flock's diet is entirely home-grown; when the ewes come in they eat the fragrant hay and delicious crimped barley that we harvested in the summer. A few weeks ago, the flock was pregnancy scanned which plays an important part in our preparations. Knowing how many lambs the ewes are carrying, one, two, three or even four, means we can balance their individual portion sizes - depending on how many lambs they are expecting, and we can ensure they are ready to produce the right amount of high quality colostrum (the thick, nutrient and antibody-rich sweet liquid that newborn lambs suckle on before the ewe's milk turns thinner and more milky). We rely on our ewes to keep their lambs healthy the natural way. Scanning is also useful to know how many lambs a ewe will have, as we'll foster a triplet or quad onto a ewe having a single lamb, and this is usually successful if we can introduce the foster during the birth process, rubbing it against the ewe's own lamb in the water bag, so she thinks both lambs are hers.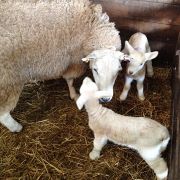 And though most of the ewes give birth by themselves, Tim or I need to be on hand and so we work in shifts. We dread the lack of sleep, but once we are in the midst of it, we become a part of something wonderful that is very hard to put into words. There is something almost magical about the atmosphere in the lambing shed. It's peaceful, absorbing and there's a gentle warmth to it – not in temperature as anyone who has done a night shift will tell you – but a calm and steady aura. Bringing brand new life into the world is the most basic and yet amazing thing our animals do, and it is a privilege to be there with them when it happens.
After a few days in our nursery shed the lambs and their mothers are taken back out to the fields, where the peace is shattered with a cacophony of bleating and baaing. Even after 35 seasons of lambing (and maybe it's the lack of sleep) we are still surprised at just how loud this can be!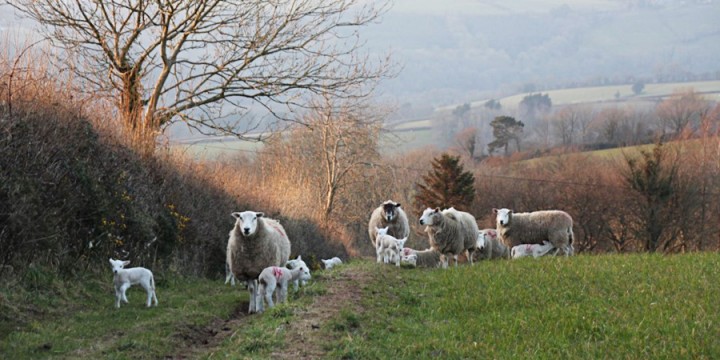 By Easter all of our ewes should have lambed – it generally takes around three weeks from start to finish with the odd straggler at the end. But there's no time to take a breath – our South Devon cows will be calving soon and it will be time for us to be a part of their story too.