We had just helped Jim put up the new polytunnel, where he is going to grow organic vegetables at Higher Hacknell Farm, when storm Doris swept across the country. We anxiously looked at the trees bending over and the sound of the wind, but just crossed our fingers rather than risk going up to the field and see it fly away! It survived and Jim is now preparing the ground and germinating his first seedlings: tomatoes, peppers, celeriac and more. It's exciting to have a new venture happening and we'll keep you posted on our blog and website. Hopefully by June, there'll be vegetables available to add to your organic meat orders.
.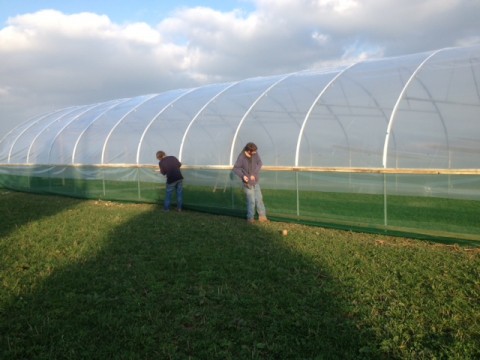 Leeks are still plentiful and to celebrate the arrival of Spring this month and St David's Day we have brought back our very popular pork and leek sausages. We stopped making them for a while as they depended on the seasonal availbility of leeks, but they are so good, it was definitely time for a comeback!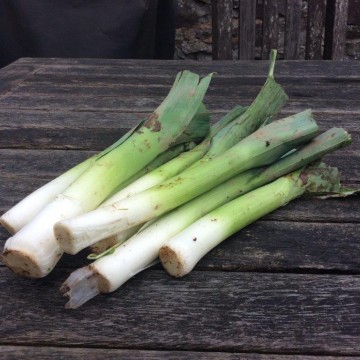 Another new arrival are bees. We're really excited that a local beekeeper, Neil, has put several hives in one of our fields. Bees are just so important for the planet because one third of the food we eat relies on pollination, and they have a vital role in sustaining our ecosystems, as seeds, fruits and berries eaten by birds and small mammals are from plants pollinated by bees. And I love eating honey, especially on porridge! Years ago Tim and I kept a single hive in the orchard, but somehow over the years it's something we didn't manage to keep going, so it's lovely to have bees back on the farm and we'll look forward to seeing them forage on our clover rich fields and wild flowers with the seasons . We were totally inspired by Professor David Goulson's from Sussex University talk at a Soil Association Conference ( do join the campaign to save bees) about the harm done by neonicotinoids, and if you'd like to find out more about this, take a look at his blog .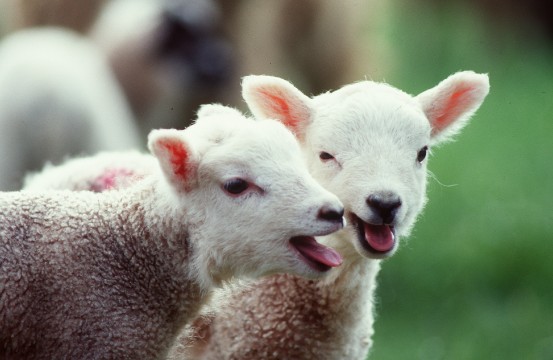 But the main activity for us now is lambing-we're still a couple of weeks away, so this is a period of calm before the storm. Let's hope the all important weather will be on our side and March will go out like a lamb.
It's only a few weeks until Mothering Sunday on 26th March, so a good time to place your order for a lovely roasting joint of beef topside to tempt the family home, and maybe get them to do the washing up afterwards!.