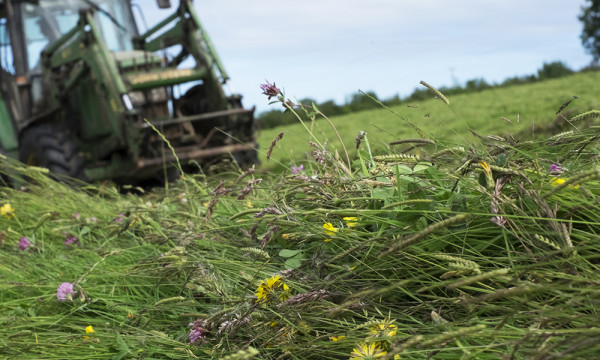 At this time of year, the fields of North Devon are a hive of activity with farmers mowing, turning, then baling hay, ready for the winter months ahead.
As organic farmers, our grasslands and the health of the soil beneath them are key to enabling us to farm sustainably and regeneratively. Unlike in conventional farming systems, we do not add to our livestock's diets with manufactured animal feed, with all the feed grown here at Higher Hacknell Farm. Just as we like to know where and how all our food is produced, we believe it's right to do the same for the animals in our care.
Our cattle and sheep grow slowly at their natural pace, feeding on organic grasses and herbs which need to be of the highest quality and full of natural vitamins and minerals to ensure that our animals are in the best condition. This is extensive farming, and is the polar opposite of the intensive farming systems that provide fast, cheap, lower quality foods at the expense of the earth, potentially to the detriment of human longevity and, outside of the UK, often to the detriment of animal welfare.
It's a shocking fact that since the Second World War 97% of the nation's permanent pastures (land which is not included in crop rotation for 5 years) have been lost. As a result, many native wild plant species which can provide essential minerals for livestock such as copper, selenium and iodine have reduced (hence the need for conventional farmers to provide extra supplements for their animals).
Our permanent pastures cover 60% of our farm and in living memory have never been ploughed and, like all of our land, are unpolluted by chemical fertilisers or pesticides. As a result they look like the meadows of a Thomas Hardy novel, brimming with wildflowers such as plantain, hawkbit, medick, trefoil, self-heal, bugle, ragged robin and lady's smock. It's obvious from some of the names that these herbal flowers have traditional healing properties - our livestock flourish in these fields and it's not hard to see why. Several of our fields have been designated as species-rich by Devon Wildlife Trust and have achieved category GS6 under the Countryside Stewardship scheme and research has found that old pastures like ours are able to fix as much carbon in the soil as woodlands too which makes them even more precious. We will continue to manage them by grazing gently with cattle (who have a very different eating style to our sheep that quickly crop everything to the same short level).
With the abundance of different plant species in our naturally nourished soil come the insects and other invertebrates, and, in turn, the birds and mammals that feed off them. We can produce food to feed people whilst treating our livestock with respect and at the same time adding back to the earth that provides for us. We wouldn't want to farm any other way.
Back in the fields we're busy making round bale hay while the sun shines. It's hot work, but we're not complaining (although a drop or two of rain in the night wouldn't go amiss!)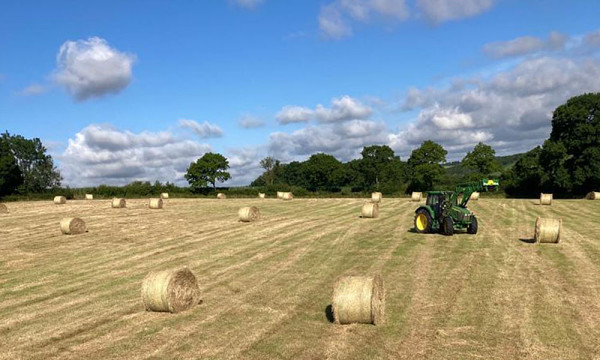 In other news, it won't be long until the first of our new season lamb is ready. Deliciously tender with a mild, sweet flavour it is a late summer treat – available soon to order for delivery from 4th August.