Now that the lambing is done, it's straight on with calving and there's been about two or more calves born each day since the beginning of the month. We need to be around keeping a constant eye on the cows, and being at hand just in case they need help. All is going well so far, but we don't want to 'count our chickens…' just in case!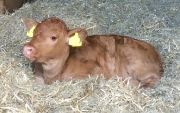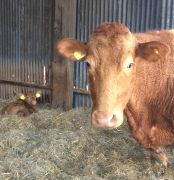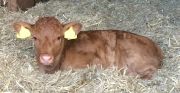 It's very important to us that all the beef we sell has been born, bred and fed here at Higher Hacknell Farm. That way we can not only guarantee traceability, but that the meat has been cared for from start to finish. You are always welcome to visit and see for yourself, but if you can't, here's a little video clip taken in early June when the cows and calves are at pasture.
The weather has been pretty cold and wet and we haven't planted the spring crops yet. But planting time has come whether you go by modern science or the stars or even the traditional soil testing method of taking your trousers down and sitting on the earth (and if it's warm to the touch, then it's time to plant the potatoes!) Any day now Tim will be planting the barley and peas, and then a few potatoes which we use in our home cooked ready meals.
We always look forward to the swallows arriving at the start of April and Tim spotted a couple yesterday. As they say, or rather Aristotle said, 'One swallow doesn't make a summer', we should make the most of every lovely sunny day because we never know what the weather will do on next! It's a lovely time of year with primroses everywhere in the hedgerows and bluebells just appearing.
Have a very Happy St George's Day on 23rd April and celebrate our British spring!