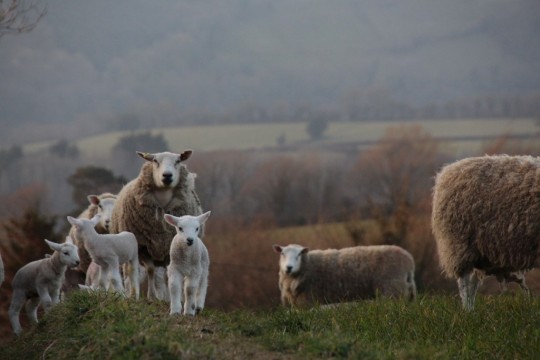 Life at Higher Hacknell Farm is 100% about lambing at the moment. From just before March 20th, the due date, for three to four weeks, it's non stop, day and night. We are well into our routine now, Tim's day starts in the early hours while I'm on the late shift. So far it's been quite steady, but today as the weather turns for the worst, they really decided to kick off! Last night there were quads and triplets born at the same time, which with some special care, are doing fine this morning.
The ewes lamb in our big shed on clean straw where we can keep a close watch on them, and then we put the new born lambs into a pen to mother up with the ewe for a day or two. It's easier for the lamb to feed when she's tucked up close to her mum, and they don't get confused about which is their lamb, which can really cause problems.
Once all is going well, we take then to a nursey barn where small groups of ewes and lambs stay under cover for another couple of days to ensure they are strong and get ready to go out to the fields. And with weather like today, we're grateful to have space to keep them protected a bit longer.
Another important event which took place this week was the South Devon Herd Book Society Spring Sale in Exeter. Last year although we needed to buy a new bull, we couldn't get to leave the farm during lambing, But this year we had to go. What use is a herd of cows with no bull! So Ellie, our youngest daughter, and our lambing volunteer, Carrie from Vermont U.S.A, were left in charge while Tim and I checked out the pedigrees and statistics of a fine selection of potential South Devon sires and chose Godworthy Diablo 13. An auction system is always a lottery but we managed to buy the one that stood out as favourite to both of us.