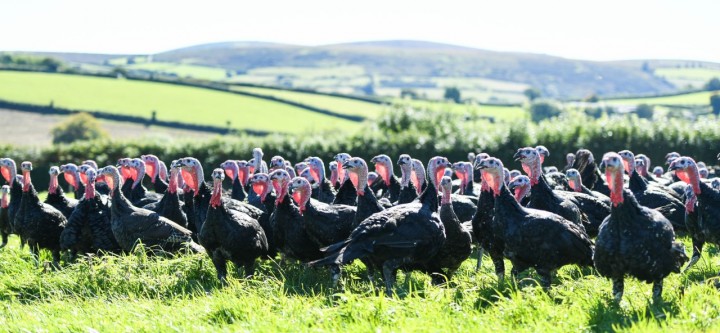 There is so much to love about deliciously tender organic poultry all year round, but at Christmas it definitely comes into its own. Versatile, easy to cook, different textures and flavours in one bird, good for freezing – the list of benefits goes on and on. Here's our handy size guide to choosing your festive showstopper.
Organic free range bronze turkey
Slow grown and foraging freely in Devon pastures, they feast on organic cereals with no G.M. ingredients or additives. Carefully reared to Soil Association organic standards our turkeys are primed to be fabulously flavoursome and ready to take centre stage at your Christmas celebration.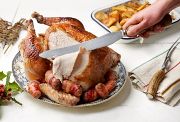 Whether you have a full house or not, we always recommend cooking the biggest bird you can fit into the oven. It's a cliché, but the leftovers really do make the best sandwiches, pies and curries. Plus cooked turkey meat freezes really well too, and can be added to dishes in the following weeks when you need something quick and easy. When considering portion sizes we recommend at least 500g (just over 1 lb) per person.
Large bird: 8-10 kg (approx 17.5 lb – 22 lb) feeds 10+ people with plenty of delicious cold meat for Boxing Day.
Medium bird: 6-8 kg (approx 13 lb -17.5 lb) feeds 8-16 people, again with lots of yummy leftovers for later.
(For large and medium turkeys use the arrow key in the drop down box to select the approximate weight you require and we will match it as closely as we can).
Small bird: they sold so fast we only have 5.5 kg (approx 12 lb) birds left, but this means 2-3 people will have a sumptuous feast and can relax knowing they have plenty of tasty meat left for a couple of meals to come.
But if you really do want something smaller for 2-3 people we have...
Half turkey: it is exactly that – half a turkey! Cut down the centre lengthwise and cooked on its side in the usual way. Perfect for the smaller appetite.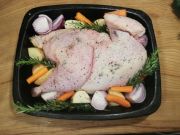 When you receive your organic turkey it should be refrigerated immediately and stored at 4C or below, with plenty of air circulating and in the lower part of the fridge. Alternatively, you can freeze the turkey and defrost the day before cooking.
You may think your turkey doesn't look like the ones in the supermarket. This is because it was dry plucked so that it could be hung in coldstore for a fuller flavour and improved texture. Delicious! Click here for our simple step-by-step guide to cooking your best turkey ever.
Organic goose
The turkey may be the most popular choice for the modern Christmas dinner table, but goose has for centuries been the traditional centrepiece for a celebration feast. Rich, dark meat and fat that makes the best roasties – choose an organic goose when you want something extra special for a smaller gathering. We have a limited supply of organic geese from a local organic farm here in Devon.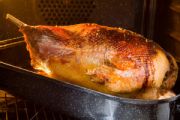 A 4-5 kg (approx 9 lb - 11 lb bird feeds 4-6 people with leftovers (difficult to resist in our experience).
Organic chicken
Succulent and savoury. All of the sizes below allow for leftovers.
Large bird: 1.9-2.3 kg (approx 4 lb – 5 lb) feeds 5-6 people.
Medium bird: 1.6-1.8 kg (approx 3.5 lb – 4lb) feeds 4 people.
Small bird: 1.3-1.6 kg (approx 3 lb – 3.5 lb) bird feeds 2-3 people.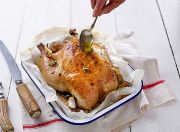 Organic ready meals (we hardly dare mention them but...)
Sometimes it's just nice to grab a curry from the freezer and have a 10 minute sit down with a glass of wine. Enough said! And as this Christmas is a bit different, our chef is creating a celebratory limited edition Higher Hacknell festive meal - succulent slizes of organic roast turkey with vegetables; just add some roasties and cranberry sauce!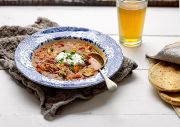 Delivery news
This was always going to be an especially busy Christmas for home delivery.
We have just been given the news by our couriers DPD that as they are keen to optimise service times during this period of particularly high volume, they are only offering the standard next day service to all customers from now until the new year. Whilst this is frustrating, particularly as this year we had intended all our deliveries to be sent on the premium service during Christmas week, we can understand the need to do it.
As always, we will pack your orders in our wool packaging with plenty of ice blocks which will keep your meat cool and perfectly fresh for when it arrives with you.
If you have already ordered your Christmas goodies you will only be charged standard delivery when we send out your order. Sorry about the change - it's been one of those years!
And finally, as a reminder, the last date for Christmas orders is 13th December and they will be delivered on 21st, 22nd and 23rd December or you can collect from the farm on the 23rd.
If you have any queries please do give us a call on 01769 560909.