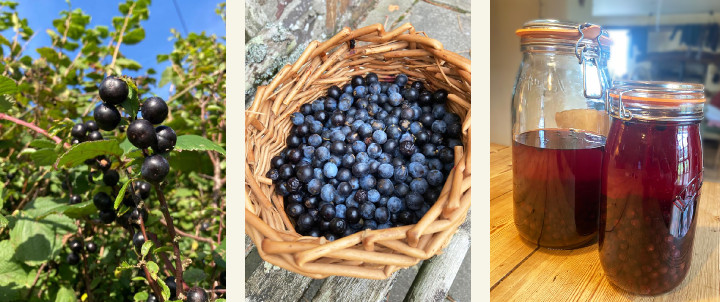 As we get into Autumn, life on the farm is quieter with the summer jobs done so we can prepare for winter. We've been gathering sloes from our hedgerows and making them into sloe gin ready for Christmas. The plump, dark berries only appear on the second or third year growth of the blackthorn, a prickly plant in the rose family that is prolific in our hedgerows.
Harvesting fruit and berries is one of the numerous rewards that working for the benefit of nature brings. Many farmers trim their hedges right back every year but early on in our farming career, we realised how important the hedges are to us; sheltering the animals in harsh weather, preventing erosion by stabilising the soil on our steep land and leaving space for nature to flourish. Our farm is made up of small fields, mostly just 4 or 5 acres and we have 17 miles of hedgerows which take some looking after. We don't cut them every year and are letting many of them grow tall, trimming the sides where we need to and laying some in the traditional way.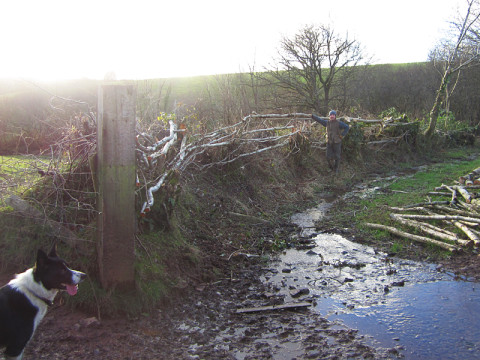 Hedges are a perfect example of our natural capital, one of the environmental assets which includes soils, air, water and living organisms. Back in August we were honoured to be invited to a meeting when Price Charles visited North Devon to discuss natural capital with a group of farmers and business leaders, exploring the challenges and opportunities it presents. Whilst the challenges can seem pretty overwhelming, there is a lot being done and getting farmers together with policy makers and scientists is exciting. There are metrics being developed to measure environmental and natural capital and carbon, but agreeing on a harmonised system seems a way off.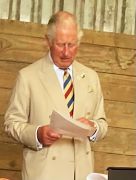 Global agreement at COP26 is something we are all hoping will lead to positive action to reduce carbon emissions and climate change. As farmers we are aware of the role food and farming plays, accounting for around one third of greenhouse gas emissions according to the Intergovernmental Panel on Climate Change, and we hope that our government will make stronger policies on agriculture so that this country will meet its legally binding climate targets. We are very frustrated and find it unbelievable that our government seems deaf to the benefits that organic farming offers when it is proven that organic farms generally emit fewer greenhouse gases, use less energy per hectare than non-organic farms and store greater amounts of carbon in soils. Tim and I passionately believe that organic farming is part of the solution and that we can produce healthy food, increase wildlife and biodiversity as well as capturing and storing carbon. If the right policies are put in place and natural capital has an economic as well as an environmental value put on it, we are positive about the future.
In the meantime, we are looking forward to gathering more of our natural assets in the orchard next weekend as we harvest our apples and make cider. It's the start of the seasonal celebration as we count down the weeks to Christmas!