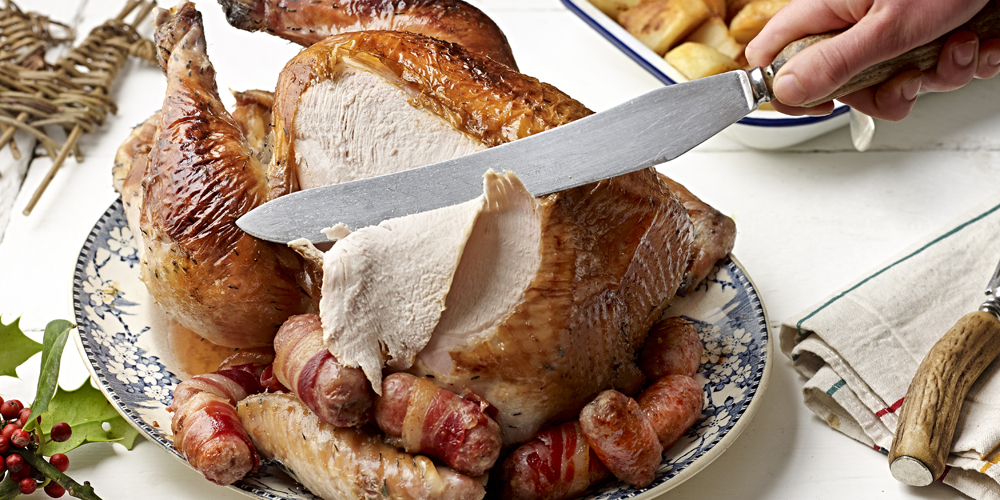 Here's our handy Christmas size guide to turkey, beef, pork and chicken. Please do get in touch if you need any more information.
TURKEY
All of the sizes below allow for plenty of delicious leftovers for Boxing Day.
Extra large bird: serves 12+ people (8-9 kg, approx. 18-20 lb)
Large bird: serves 10-12 people (7-8 kg, approx. 15-18 lb)
Medium bird: serves 8-10 people (6-7 kg, approx. 13-15 lb)
Small / medium bird: serves 6-8 people, (5-6 kg, approx. 11-13 lb)
Small bird: serves 4-6 people, (4-5 kg, approx 9-11 lb)
Here's our recipe for your best roast turkey ever!
BEEF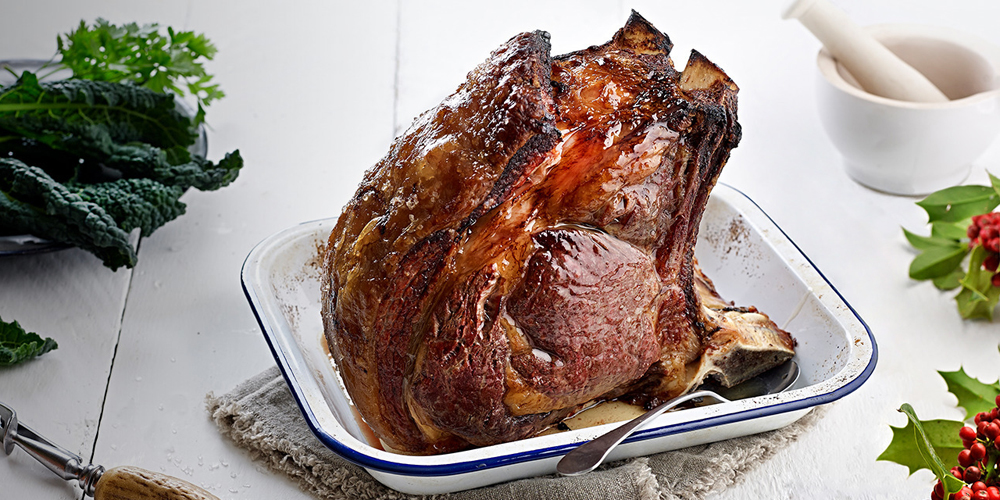 When you want a showstopping centrepiece – full of flavour, visually arresting and with lots of ceremonial drama as it is paraded into a candlelit room:
Fore rib of South Devon beef on the bone
South Devon sirloin joint on the bone
1 bone joint serves 2-3 people
2 bone joint serves 4-8 people
3 bone joint serves 8-12 people
4 bone joint serves 12-20 people
Please note - our South Devon cattle are a large breed - the suggested serving sizes take this into account.
Easier to cook and carve but equally delicious. We've removed the bone and rolled the joint for you. No bones so no waste. Takes up less space in the oven too:
Boned and rolled rib joint
Boned and rolled sirloin joint
Boned and rolled topside joint
1kg will feed 2-4 people for one meal. If it's just for 2 people there will be some delicious cold leftovers – enough for the basis of a meal the next day.
2.5kg will feed 6-8 people, with a few tasty leftovers for a sandwich.
Something special for just the two of you?
Beef fillet steak
Fillet steaks are usually around 180g each, but if you're spoiling yourselves, allow 225g per person and you'll be in for a treat.
A whole fillet weighs around 2kg and will feed 10-12 people, or choose a 1 kg piece to roast or for a magnificent beef wellington for 4-6 people.
Need to pop something low maintenance into the oven during the day and then forget about it until the evening when it emerges tender and oozing with flavour?
Boned and rolled brisket joint
As above, 1kg will feed 2-4 people for one meal and 2.5kg will feed 6-8.
PORK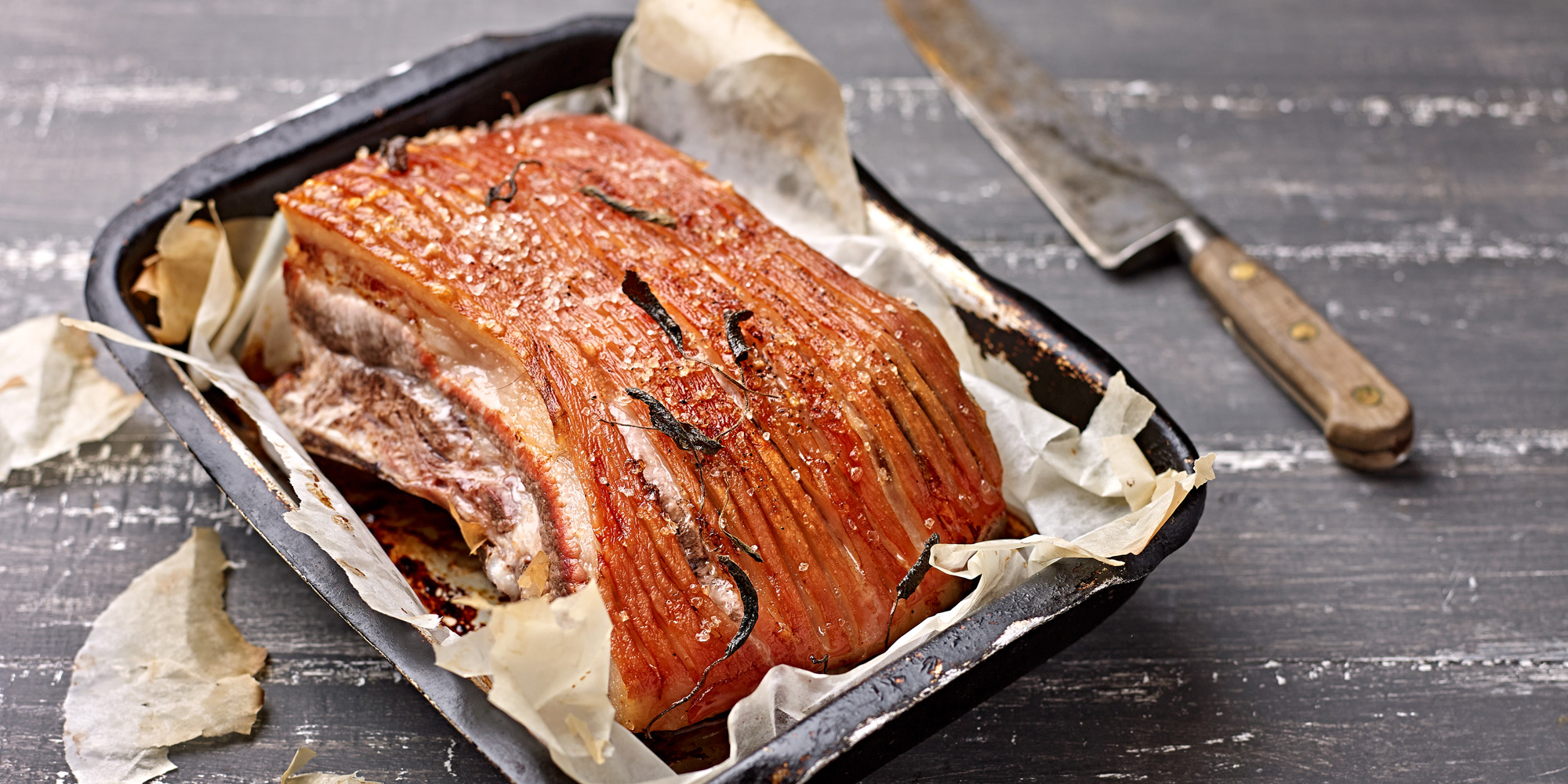 Stress-free tender roasting joints you can pop in the oven - with plenty of ridiculously moreish, crunchy crackling
Organic loin of pork on the bone: 1.5kg will comfortably serve 4-6 people.
Organic loin of pork boned and rolled: easier to carve than the bone in version and 1kg will serve 4 people plus extras for nibbling later.
Leaner roasting joint - it's all about the flavour of the meat, less crackling
Organic pork leg boned and rolled: for easy cooking and carving, 1 kg will serve 4 people with enough leftovers for a sneaky cold pork and pickle roll for supper.
When youy want to prepare a slow roast or present a dramatic dish of pulled pork
Organic shoulder of pork on the bone: left to its own devices in the bottom of the oven for hours this makes absolutely delicious pulled pork and is a real crowd pleaser. A whole shoulder is around 8 kg and will feed 12-20 guests, and a half at 4 kg will serve 8-12.
Organic pork belly is also great when you want to leave something in the oven and get on with other things. With belly pork, the fat melts away and keeps the meat succulent and tender with lots of fantastic crackling. A 1 kg joint will be perfect for 2-3 people with some seconds.
Pork belly and shoulder also make amazing pork pies!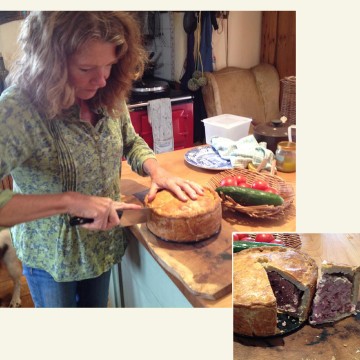 Organic chipolata sausages and streaky bacon
Whether you make your own pigs in blankets with strips of streaky bacon wrapped around them or just go bare we don't need to tell you how many organic chipolatas you need - but it's lots! We tend to go for 3 per person minimum ith the Christmas roast but we all know that any left at the end disappear very quickly (along with cold stuffing - yum!) Chipolatas and crispy bacon are also great on a bed of scrambled eggs in a breakfast sandwich served with a glass of freshly squeezed orange juice.
Organic sausagemeat
We love stuffing! 1 kg of organic sausagemeat will make enough stuffing to serve with a 5-6 kg turkey (although we always make more and eat it with everything over the festive holidays).
My favourite Christmas stuffing combines chestnuts with sausagemeat, try Delia's eighteenth centure recipe!
CHICKEN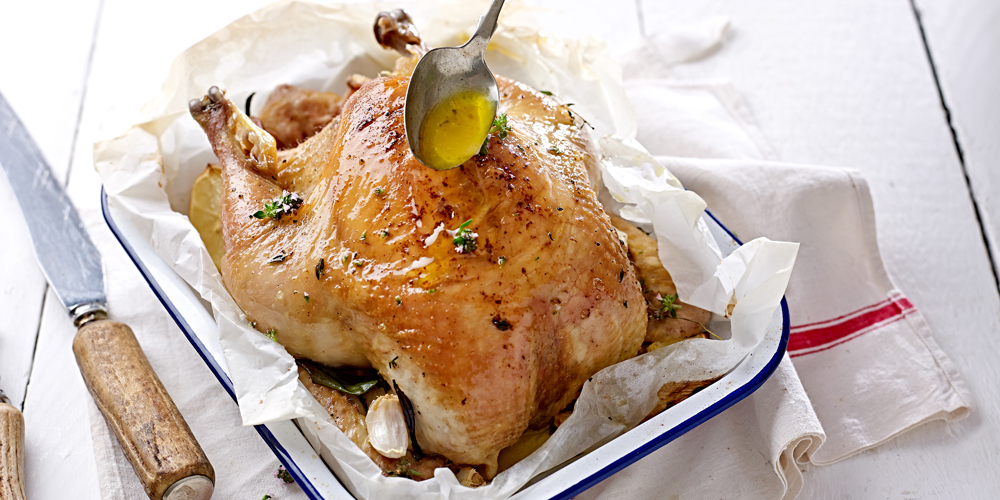 Succulent and savoury. All of the sizes below allow for leftovers.
Large bird: 1.9-2.3 kg (approx 4 lb – 5 lb) feeds 5-6 people.
Medium bird: 1.6-1.8 kg (approx 3.5 lb – 4lb) feeds 4 people.
Small bird: 1.3-1.6 kg (approx 3 lb – 3.5 lb) bird feeds 2-3 people.

READY MEALS (SHHHHH!)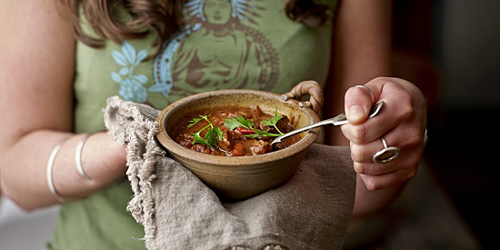 And finally, sometimes you just need a break from the kitchen frenzy, fun as it is. So how about letting someone else do the prep with an organic ready meal from the freezer (we won't tell if you won't). Our organic Spanish pork casserole for two will whisk you away to sunnier climes or how about an organic chicken masala - perfect with a large glass of something tasty and with no washing up in sight!
Happy festive planning everyone!