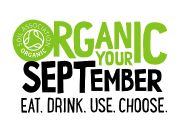 The summer might be drawing to a close but there's still plenty to celebrate. Today marks the start of
Organic September
– the Soil Association's month-long celebration of all things organic.
There are many reasons to choose organic – from higher levels of animal welfare to lower levels of pesticides, better environmental standards and greater protection of wildlife.
We've been farming organically at Higher Hacknell since 1988 and we are proud to be certified by the Soil Association. We think it's important that you know exactly where your meat comes from and how it's been produced.
To celebrate Organic September, we're offering free delivery on all orders over £100 for the whole of September 2016. Just enter the discount code SEPTEMBER at the online check out.
- - -
Look out for more Organic September offers and recipes throughout this month, on our blog.