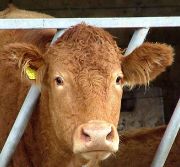 It's definitely time to light the fire here in Devon but we don't mind the chillier mornings and the shorter days because autumn is such a beautiful time of year on the farm. Our South Devon cattle are looking good after the summer grazing and their golden coats match the stunning backdrop of our larch trees.

We also love this time of year because of our annual cidermaking festivities. We always look forward to bringing in our apple harvest with family and friends. I'll be busy in the kitchen making lots of delicious food for our helpers. Spicy hot merguez sausages go down well and I'll be making big pots of organic lamb curry as well as apple cake and scones (jam on top!). Our sausages and curry are also great for Bonfire Night parties, why not try some in your order this week?

Cider has been made at Higher Hacknell for centuries and we still use the ancient press and make it in the traditional way. Once our work with the apple crop is done we turn our attention to December, as our first Christmas orders start to come in and we get our preparations under way in the butchery. We'll be salting legs of pork for gammon and ham joints in the next few weeks and I'll be making sure we have plenty of meat hanging in our cold room. Do order as soon as possible as some cuts always sell out…

If you'd like to discuss your Christmas order, then do call me by phone on 01769 560909 or browse our website.

Best wishes,
Jo Budden.