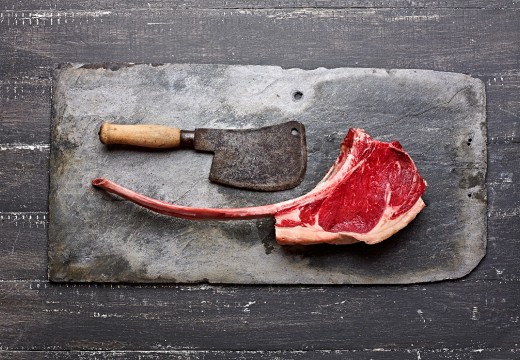 The shops are full of gimmicky ideas for celebrating Valentines Day, but if roses don't rock your boat and you are giving up chocolates for lent, why not stay at home this Valentines night and cook the perfect steak to share?
Our Tomahawk steak will definitely impress! It's not just the size - big enough to share between two very hungry people, but it also scooped both a Gold Taste of the West Award and the prestigious Great Taste Award last year. So what is a Tomahawk steak? It takes it's name from native American axe and is a very large rib eye steak attatched to the bone.
The next question is how do you cook a steak that big? If you can barbecue it, that's ideal, but not something I fancy doing at this time of year. So I take a large roasting dish and after seasoning, sear it over a high heat or grill, then put it in the oven for 15-20 minutes, depending how rare to well done you like it. Meanwhile pour a large glass of organic red wine. Enjoy!
To get your Tomahawk in time for Valentines day, just place your order by 6pm this Sunday on the website . You'll also find there's 10% off our meltingly tender fillet steak in the seasonal offers.
p.s It doesn't come with the meat cleaver, possibly not the most appropriate image!