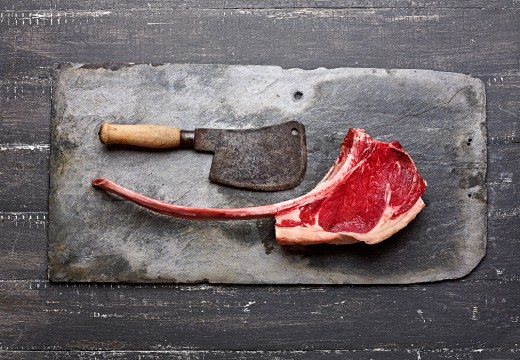 Have you ever thought of marinading beef with expresso coffee based spicy rub? Well, tune in to chef Nigel Barden's Radio 2 cookery slot on the Simon Mayo BBC Radio 2 show this Thursday 19th May between 6.10 and 6.30 p.m and you'll find out how he cooks up one of our fabulous Higher Hacknell Tomahawk Beef Steaks.
We were just back from our London trip to the BOOM Awards, where we reached the finals in the best of meat category and in the Consumer Choice, (though were beaten to first place by the well deserving Booja-Booja chocolate company) and getting back to work, when we got the call. Friday 13th hadn't been going too well up till then, so when the phone rang, I answered thinking , 'oh no! what now?', and it was a cheery Nigel Barden saying he'd like to feature our beef on his show as it was one of last years' Great Taste Award winners. The recipe is from a new cookery book, 'Food Stories', a compilation of recipes by James Golding of the Pig Hotels, featuring winning product s from the Guild of Fine Foods, including our our beef and lamb. The book is available on line with free postage from the RareBrand Market or you can get a copy from W.H Smiths, or just email me.

Whether you want to try the spicy coffee marinade or just go for a simple bangers and burgers barbecue, it's got to be a BBQ Bank Holiday. Check out our seasonal recipes on the website, and make our family recipe for barbecue sauce. It's the best for chucking over chargrilled steaks, sausages and burgers and nothing bought in a bottle can beat it!
It's going to be a busy one for us, as I'll be doing three days at the River Cottage Spring Fair, so I hope the weather stays fine. Have fun whatever you're up to, on a half term break or staying home and working in the garden.
With best wishes
Tim and Jo and all at Higher Hacknell Farm