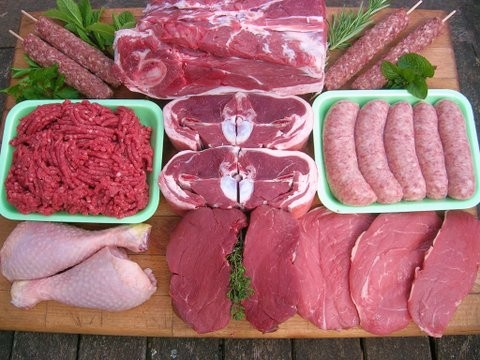 £5 OFF Higher Hacknell Spring Organic Meat Box
You've got it covered with this selection of our finest organic meats from super tender fillet steaks and lovely lamb loin chops to everyday beef mince meals of bolognaise or chilli. Add in a stir fry or quick supper with minute steaks, or chicken drumsticks, the slow cooked roast lamb and a BBQ of sausages and spicy Lamb koftas and you've got great value as well as loads of delicious meals.
May is a month with two Bank holidays so it's just as well to get stocked up with food. Maybe you've got family or visitors or you just want to make the most of that extra time off and spoil yourself with some special meals. Now that the animals are outside, with the lambs skipping about, and the new born calves fed by their mums, life gets a bit easier on the farm.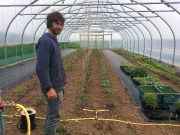 Vegetables and Crops
But it's so dry, and I know we don't enjoy rainy weather but we really need it. The spring barley Tim planted in March is suffering and the plants could do with a good soak. Jim's vegetables are growing well as he's able to water them in the polytunnel, but the parsnips and carrots are slow to germinate. As the weeks go by there'll be more vegetables available in the seasonal section on the website and do follow what's happening on his facebook page.Salad bags and spinach are ready now.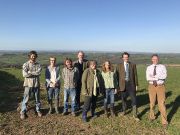 Organic farming
There's been plenty going on over the last few weeks, we've even had a ministerial visit from Teresa Coffey, a DEFRA minister. It was an opportunity to show her the benefits of organic methods and how they are solution for our farming future. We explained how the pollution of our local rivers, the Taw and Torridge would be prevented if farmers stopped using chemicals and pesticides and that wildlife biodiversity would increase. There was a funny moment when a bumble bee buzzed around us in agreement! Now that there's another election ahead, I hope the message will be remembered when it comes to forming a post Brexit policy for the environment.
But for now, let's enjoy this beautiful season. The apple blossom is spectacular and quite early this year, and the carpets of bluebells in the woods are a sight I love.